Gulir gambar untuk memperbesar
Klik untuk membuka tampilan yang diperluas
Frequently Bought Together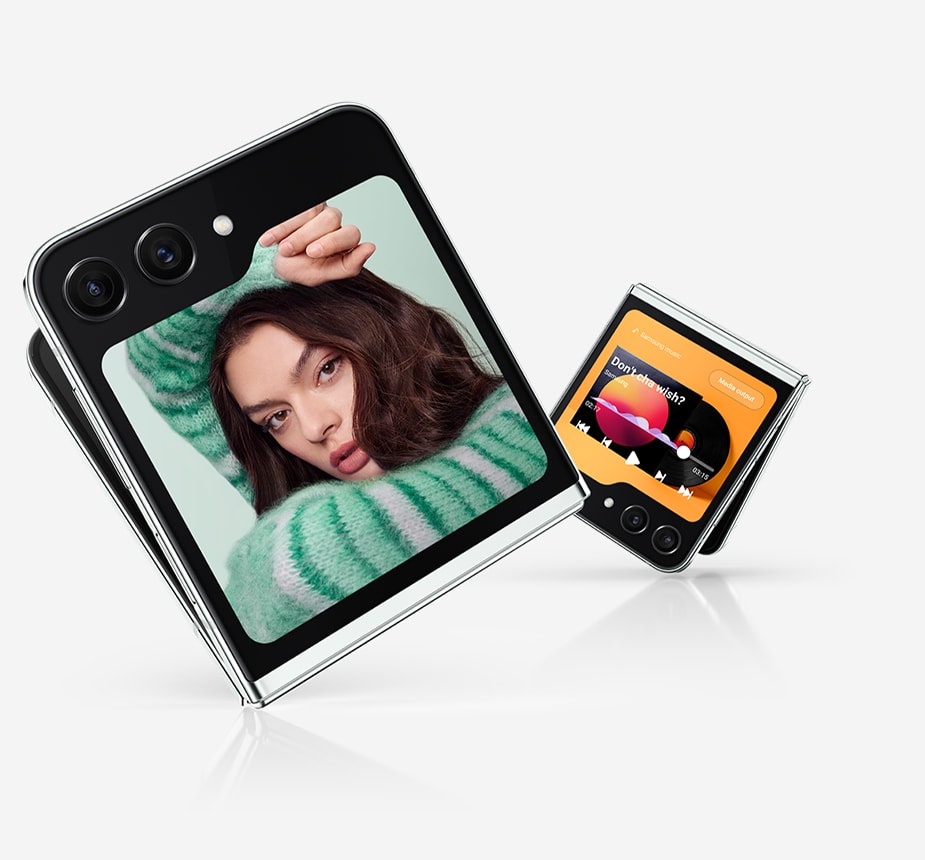 *Image simulated for illustrative purposes. Actual UI may be different
What if your phone was an extension of you?
A perfect fit — both in life and your pocket. A brilliant Flex Window you can customize. A camera that captures selfies from edgy angles. Plus, a battery that keeps up.
Galaxy Z Flip5 | Join the flip side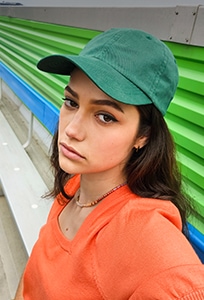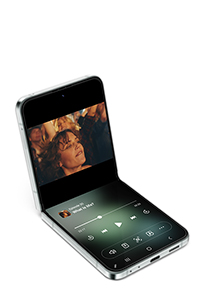 Flex Window.
The largest Cover Screen on a Galaxy Z Flip yet
Galaxy Z Flip5 debuts a 3.4-inch Flex Window built for self expression. Compact and eye-catching from every angle, this foldable is as versatile as it is portable.
*Image simulated for illustrative purposes. Actual UI may be different.
One size fits all pockets
Our most compact Galaxy Z Flip yet folds down tight to slide as easily into your pocket as it does into your hands.
*Image simulated for illustrative purposes. Actual UI may be different.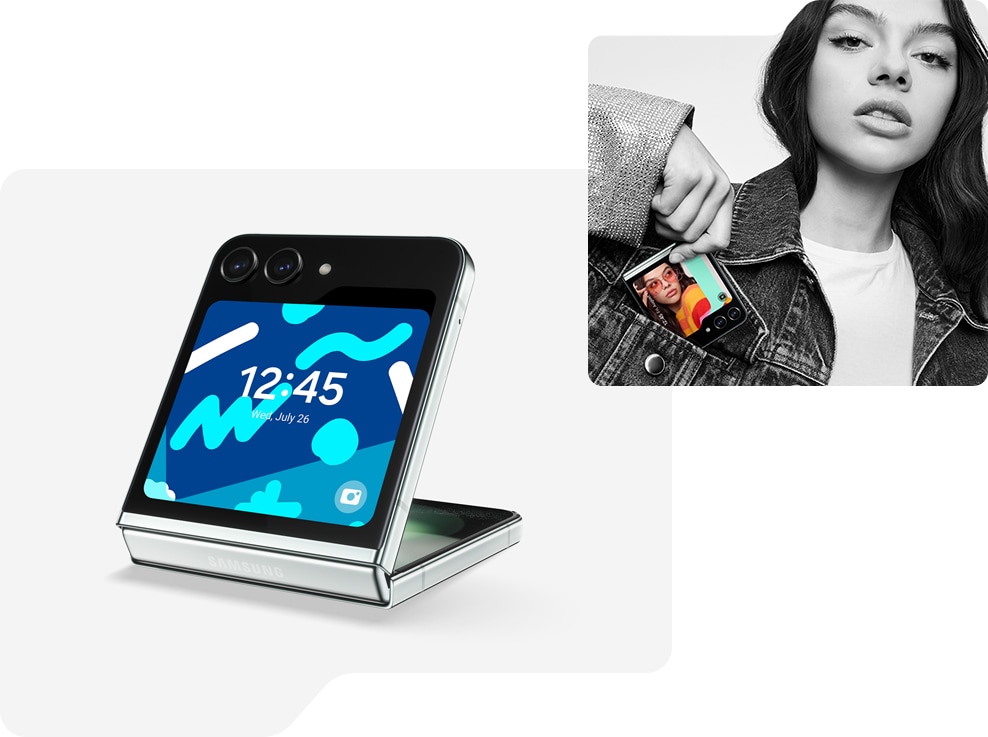 Choose from four colors inspired by nature
Find your vibe in a world of futuristic color schemes inspired by the natural world: Mint, Graphite, Cream, Lavender.
Two Galaxy Z Flip5 devices in Mint. One is folded like a tent and seen from the rear panel. The second is folded and partially obscured by the first device. Next, a close up of the Rear Camera. Next, a close up of the Flex Hinge.
Online exclusive colors that evoke urban nature
Add an extra pop of personality to your device with exclusive urban colors you can only find on Samsung.com: Gray, Blue, Green and Yellow.
Online Exclusive
Camera.
The best selfie experience on a Galaxy smartphone yet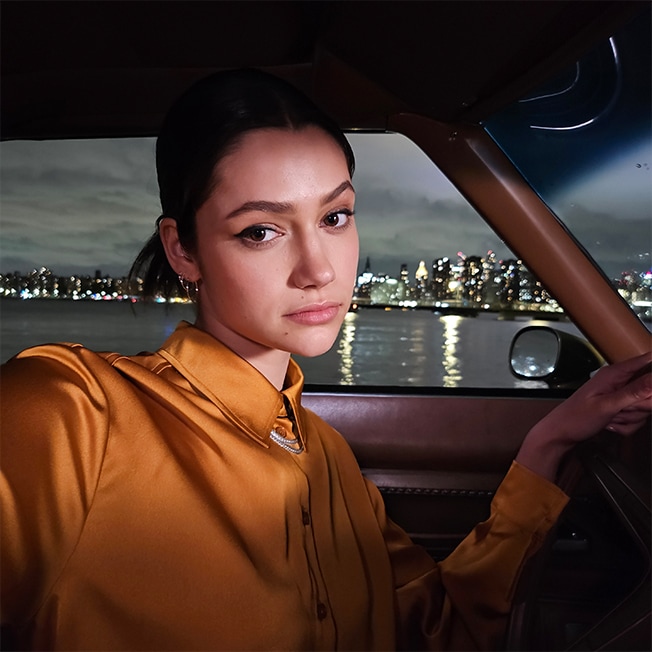 Capture stunning selfies with FlexCam and make any angle your best yet. No matter which camera you choose, Galaxy Z Flip5 makes it easy. Now all you have left to do is master the art of the pose.
FlexCam selfies. Even when closed
Launch the camera app with the Flex Window shortcut to capture the moment. Snap photos, tweak the settings and retake, all without ever opening your phone.
*Image simulated for illustrative purposes. Actual UI may be different.
*This photo has been retouched for color correction.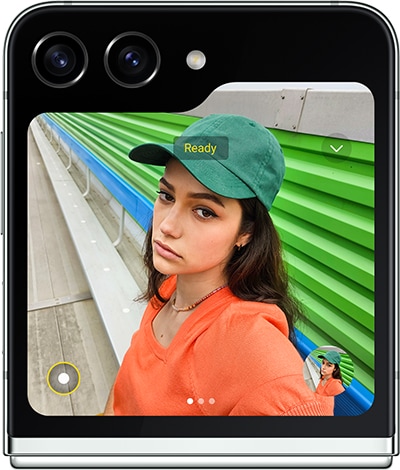 Hands-free selfies. Courtesy of FlexCam
Unfold to Flex Mode and bring your buddies in frame for a wider group selfie. Use the Camera Controller on your Galaxy Watch6 and stun the world with zoomed-in selfies. It's the ultimate flex.
*Image simulated for illustrative purposes. Actual UI may be different.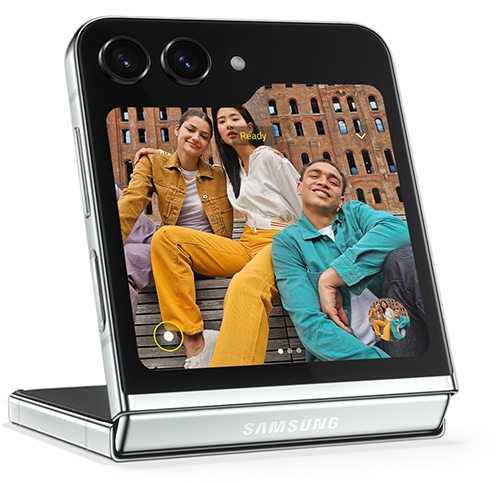 Brighter Nightography
Galaxy Z Flip5's Wide camera brings even more of the scene into frame. Unfolding is optional — just swipe the Camera icon on the Flex Window and start recording with FlexCam. And keep the camera rolling, because with 4K Nightography video at 60 fps, losing sunlight doesn't mean losing out on quality.
*Image simulated for illustrative purposes. Actual UI may be different.
Front Camera selfies. Lookin' sharp
Unfolding to the Front Camera gives your selfie skills a major upgrade. Forget the days of hazy front-facing shots. Super Clear Lens keeps photos crisp and even reduces flare from bright lights behind you.
Meet the 3.4″ Flex Window
*Image simulated for illustrative purposes. Actual UI may be different.
Reply to messages with a QWERTY keyboard, make calls, check the weather forecast and even pull out your wallet — all from a big, bright Flex Window. Now featuring more clock faces and crisscross gestures you know from across the Galaxy ecosystem.
*Image simulated for illustrative purposes. Actual UI may be different.
And no matter how many widgets you use, you'll never get lost in the shuffle with Multi Widget View.
*Image simulated for illustrative purposes. Actual UI may be different.
Customize the Flex Window just the way you like it
Take total control of the Flex Window. Customize your device with loads of widgets, video wallpapers, clock faces, styles and more to make your Galaxy Z Flip5 uniquely you.
*Image simulated for illustrative purposes. Actual UI may be different.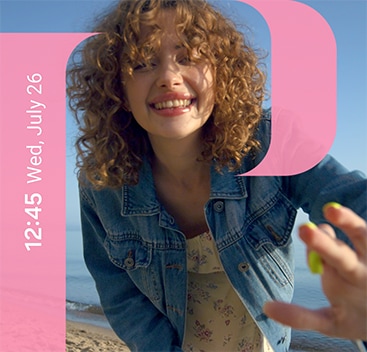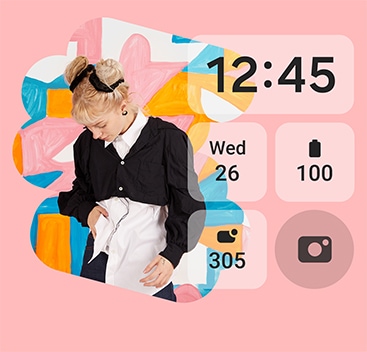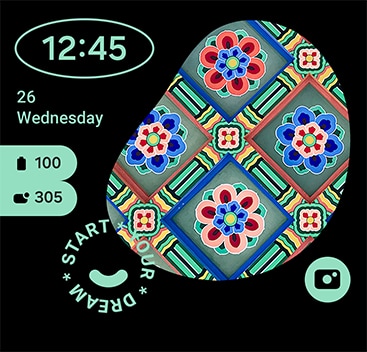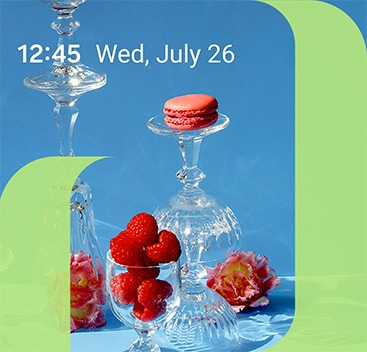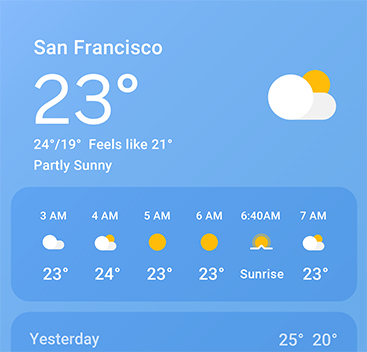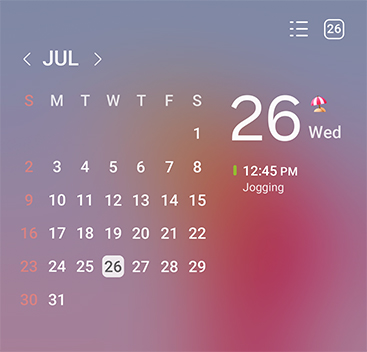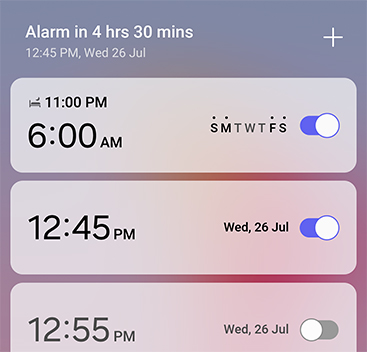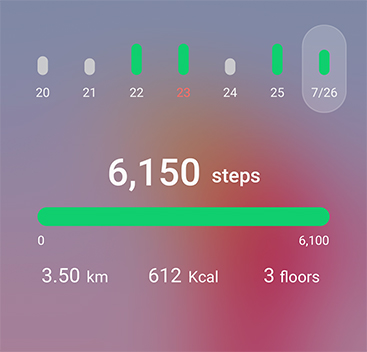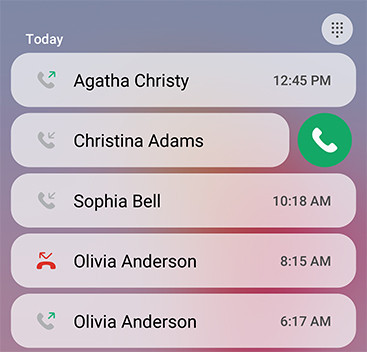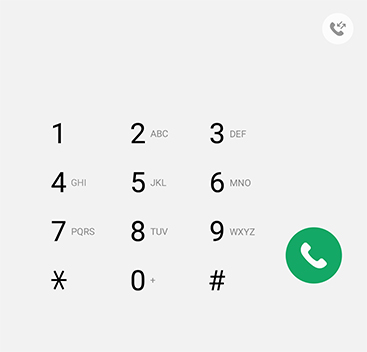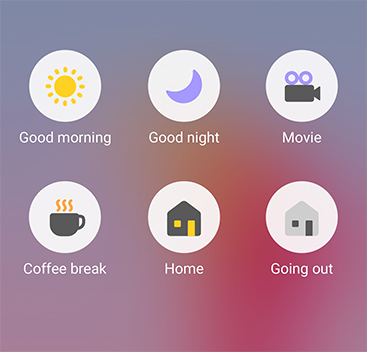 *The information displayed on Google Finance widget is for illustrative purposes only.
Backed up by a powerful processor, this 3700mAh (typical) battery is even more efficient, stretching out the charge so you can keep binging movies or gaming late into the night. Need extra juice? Enable low power mode to keep the fun flowing.
The most powerful processor on Galaxy foldables yet
The new Snapdragon® 8 Gen 2 Mobile Platform for Galaxy takes you to a whole new level of power. Experience smoother graphics, faster AI and improved battery performance.
*AP performance improvements shown compared to Galaxy Z Flip4. Actual performance will depend on user environment, conditions and pre-installed software and applications.
Snapdragon® 8 Gen 2 Mobile Platform for Galaxy

An all-new flex — Flex Mode Panel
Level up how you use Flex Mode with more controls at your fingertips. Hide or expand the panel with the touch of a button. You can even whip out a touchpad and curser. And an enhanced playback control panel makes navigating through music and media easier and more precise than ever.
*Image simulated for illustrative purposes. Actual UI may be different.

Durable to keep you flipping
Galaxy Z Flip5 stays tough. And with the added support of Samsung Care+, take it with you without worrying about whatever slip-ups may happen along the way.
Armor Aluminum Frame
This foldable wears a tough suit of armor frame – Armor Aluminum.
Flex Hinge
Water Resistant
Watch6. Start your fitness journey
Link Galaxy Z Flip5 up with a Galaxy Watch6 series device to learn more about your workout performance. Watch yourself improve every day with gym selfies to prove it — no mirrors required when you use Camera Controller. And with a Galaxy Watch6 series device keeping tabs on where you left your phone, you're free to go wherever you please.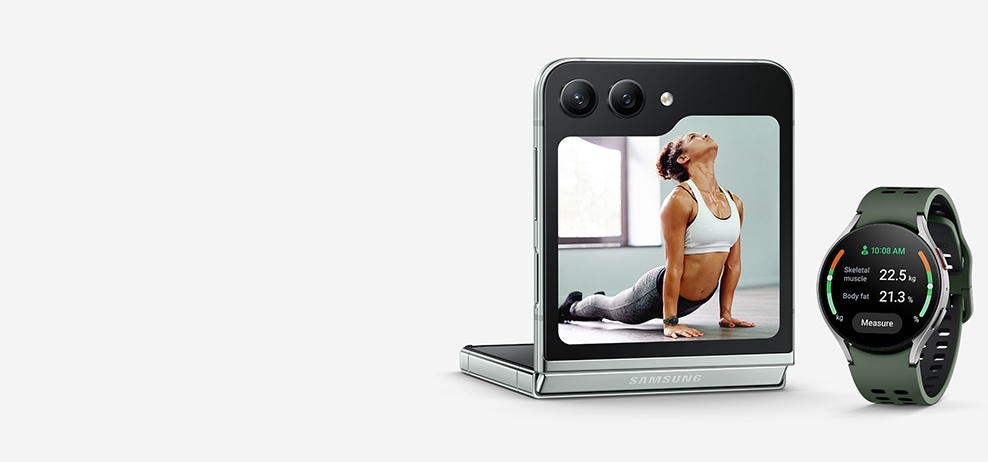 Switch, upgrade and trade. It's all easy
Designed with the planet in mind
We're committed to creating a cleaner future by taking recycled measures.
*Image simulated for illustrative purposes. Actual UI may be different.
Smart Switch
Meet the safe and secure way to move what you loved on your old device to your new Galaxy Z Flip5.
*Image simulated for illustrative purposes. Actual UI may be different.
Your Privacy. Secured
Your privacy is on lock with Samsung Knox. Share what you want. Secure everything else.
*Image simulated for illustrative purposes. Actual UI may be different.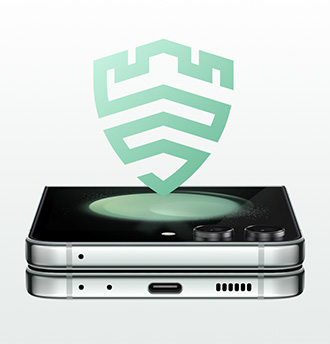 Storage
Store it all with 256GB and 512GB options.
Get started with 6 months of Microsoft 365 Basic. You'll get 100 GB of cloud storage, plus ad-free, secure email and access to Microsoft support.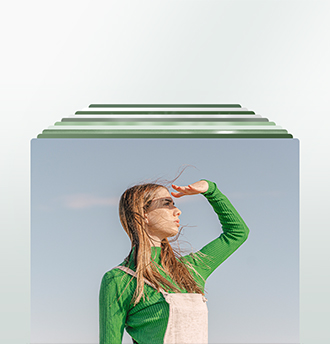 Measured diagonally, Galaxy Z Flip5's Cover Screen size is 3.4 inches in the full rectangular form; actual viewable area is approximately 95% of the full rectangular area due to the rounded corners and lower cutout.
Based on Samsung internal lab test conditions with pre-release version of given model connected to earphone via Bluetooth under default settings over LTE. Estimated against battery capacity and measured current over battery power consumption during video playback (video file resolution 720p, saved on device) and audio playback (mp3 file, 192kbps, saved on device with LCD display turned off), respectively. Actual video and audio playback times vary by network connection, settings, file format, screen brightness, battery condition and many other factors.
Flex Mode Panel button must be enabled in device settings in order to be used with installed apps in the apps tray, including third party apps. List of supported apps can be found in the Flex mode panel settings under your device's settings menu.
This device contains magnets. Keep it away from credit cards, implanted medical devices, and other devices that may be affected by magnets. In the case of medical devices, keep your device more than 15cm apart. Stop using your device if you suspect any interference with your medical device and consult your physician or your medical device manufacturer.
Availability of color may vary by country, region or carrier.
Online exclusive colors need special production. Please allow up to 4 weeks for delivery.
Flex Mode supported at angles between 75°and 115°. Some apps may not be supported in Flex Mode.
Camera Controller is supported on Galaxy Watch4 and later released Galaxy Watch models when paired with Galaxy S9 series and later. Camera Controller zoom feature is available on Samsung Galaxy Watch4 series and later released Galaxy Watch models that are paired with a Galaxy S series, Galaxy Note series and Galaxy Z series smartphone running One UI 5.1 or above with Camera Controller support.
Compared to previous models.
VIULL (Video Ultra Low Light) technology enables the capture of brighter video footage in low light.
Galaxy Z Flip5 supports 4K video recording. 4K video playback is not supported.
Certain applications may not support Flex Window widgets.
Galaxy Z Flip5's Cover Screen is the first in the Galaxy Z Flip series with a proximity sensor and first Galaxy Z Flip Cover Screen to support HBM. Galaxy Z Flip5's Cover Screen HBM has a peak brightness of 1600 nits for a brighter and clearer display.
Availability of features may vary by country or region.
Actual battery life varies by network environment, features and apps used, frequency of calls and messages, the number of times charged, and many other factors. Estimated against the average usage profile compiled by UX Connect Research. Independently assessed by UX Connect research between 2023.06.19-2023.06.29 in US with pre-release versions of SM-F946 and SM-F731 under default setting using LTE and 5G Sub6 networks.
Typical value tested under third-party laboratory condition. Typical value is the estimated average value considering the deviation in battery capacity among the battery samples tested under IEC 61960 standard. Rated capacity is 4270mAh for Galaxy Z Fold5, and 3591mAh for Galaxy Z Flip5. Actual battery life may vary depending on network environment, usage patterns and other factors.
Snapdragon is a product of Qualcomm Technologies, Inc. and/or its subsidiaries. Snapdragon is a trademark or registered trademark of Qualcomm Incorporated.
Frame does not include volume and side keys or SIM tray.
Based on lab test conditions for submersion in up to 1.5 meters of freshwater for up to 30 minutes. Not advised for beach or pool use. Water resistance of device is not permanent and may diminish over time because of normal wear and tear. IPX8 rating is not dust-resistant.
Samsung Care+ coverage may vary by country and deductibles may apply.
Galaxy Watch6 series devices sold separately.
Product and feature availability may vary by country or region. Galaxy Watch6 must be paired with a Samsung Galaxy Phone with Android 10.0, minimum 1.5GB RAM and Samsung Health app version 6.24 or later. Bioelectrical impedance analysis (BIA) is intended for general wellness and fitness purposes only. Not intended for use in detection, diagnosis or treatment. The measurements are for your personal reference only. Please consult a medical professional for advice.
Availability may vary by market, carrier, model and paired smartphone that supports Camera Controller. The update will initially be available on Bluetooth versions and will roll out to LTE versions later.
The back glass deco film of the Galaxy Z Fold5 and Z Flip5 contains 80% recycled PET. The sub window and back glass of the Galaxy Z Fold5 and Z Flip5 contains 22% recycled glass. The display connector cap of the Galaxy Z Fold5 and Z Flip5 contains 20% recycled ocean-bound plastic. The above measurements are based on weight.
Wired transfers require at least Android™ 4.3. If you do not have the required USB cable/connector for a wired transfer to Galaxy, you can also use wireless transfer options. iOS 5 or older Android OS must use wireless transfer options. Open Smart Switch Mobile in "Settings" on your new Galaxy phone or download Smart Switch Mobile app from Galaxy Store. Data and content available for transfer may vary by OS. The data of the Galaxy device is backed up and restored to the storage device. Use PC backup through Smart Switch PC or SD card backup function of Smart Switch Mobile.
Terms and conditions apply. Availability may vary by country or region. Check device trade-in eligibility on the Trade-in page.
Storage options and availability may vary by country or region. Actual storage availability may vary depending on pre-installed software.
Six month trial of Microsoft 365 Basic available for consumers with a OneDrive-Gallery Sync capable Samsung phones (phones on the Verizon network in the U.S. not eligible). After the 6 month trial, your subscription will automatically renew into a monthly paid subscription at the current price, subject to Google Play's terms and conditions. Cancel any time to stop future charges. Offer not available to existing Microsoft 365 or OneDrive premium subscribers (including trials), customers who previously redeemed an Office, OneDrive or other Microsoft storage bonus or free trial offer, customers with a locked OneDrive account, or former Microsoft 365 or OneDrive/Microsoft Storage premium subscribers who cancelled in the last 90 days. One offer per customer and per device. Offer cannot be transferred or combined with other Microsoft offers, and is available between March 15, 2023 and December 31, 2023. Offer must be redeemed during this period on the Google Play Store and participants must sync their gallery with OneDrive to commence the 6 month trial. Offer requires a Samsung and Microsoft account. Refer to https://www.microsoft.com/onedrive-samsung-offer for details.
Measured diagonally, Galaxy Z Flip5's Main Screen size is 6.7″ in the full rectangle and 6.6″ accounting for the rounded corners; actual viewable area is less due to the rounded corners and camera hole.
Informasi Tambahan
| | |
| --- | --- |
| Warna | Cream, Gray, mint, Purple |