Vacuum Stick – Jet 60 turbo with Jet Cyclone – VS15A6031R1/SE
More powerful, less effort
Strong suction power
Digital Inverter Motor
Clean your home much more effectively with a suction power of up to 150W*. The Digital Inverter Motor delivers a strong input power of up to 410W**, maintains a high level of energy efficiency and generates powerful suction of up to 150W*, so it cleans both carpets and hard floors effectively.
* Suction tested based on the IEC62885-2 Cl. 5.8 standard, tested at the inlet of the non-accessorized tool, using Max mode. Based on SLG Prüf- und Zertifizierungs GmbH tests.** Based on internal testing in accordance with the IEC60335-1 Cl. 10 standard.
Exceptional suction
Jet Cyclone
Enjoy cleaner air and outstanding suction power with the Jet Cyclone's high-efficiency, multi cyclone structure. An optimal air path reduces air resistance and its 9 cyclones with 27 air inlets minimize the loss of suction. It also traps fine dust that is sucked into the vacuum cleaner.
Powerful on carpets
Jet Fit Brush
Pick up fine dust particles in carpets as well as on hard floors with the Jet Fit Brush. With its 180 degree swivel head, you can easily change direction and clean every corner. And you can easily detach the brush with one click to quickly remove dirt, so that it can be hygienically maintained.
Flexible charger
2-in-1 Charging Station
Store and charge your vacuum cleaner more flexibly with the 2-in-1 Charging Station, which can be easily adjusted to suit any home. If you want to save space it can be mounted on the wall. Or you can use it as a stand-alone charger, so you can simply remove the battery and charge it anywhere.
Up to 40 minutes** cleaning
Removable and Longer-lasting Battery
Enjoy a long cleaning time without recharging. A high-efficiency (2000mA*) battery maintains suction for up to 40 minutes**. And you can easily remove and replace it with a spare battery*** to clean for up to 80 minutes. It also retains 70% of its original performance for up to 500 cycles****.
* 2000mA is based on the total battery cell capacity, but it is limited to 1800mA for better durability.** The stated run time applies to the minimum power level with a non-motorized tool attached.**** The stated run time applies to the minimum power level with a non-motorized tool attached. Results may vary depending on usage *** An extra battery will be sold separately as an accessory.**** Maintains 70% capacity after 5 years of use at 100 cycles/year, based on the battery package capacity (1800mA). 1 cycle: total use of battery from a full charge. Results may vary depending on usage. Based on internal testing.
Fully washable bin

Easy Clean
Washable
Keep the dustbin hygienically clean and empty the vacuum cleaner easily. The whole 0.8L dustbin, including the multi-cyclone system, is fully washable, so it can be kept clean and fresh. It can also be removed easily without detaching the pipe, so you can simply tip the dustbin to empty it out.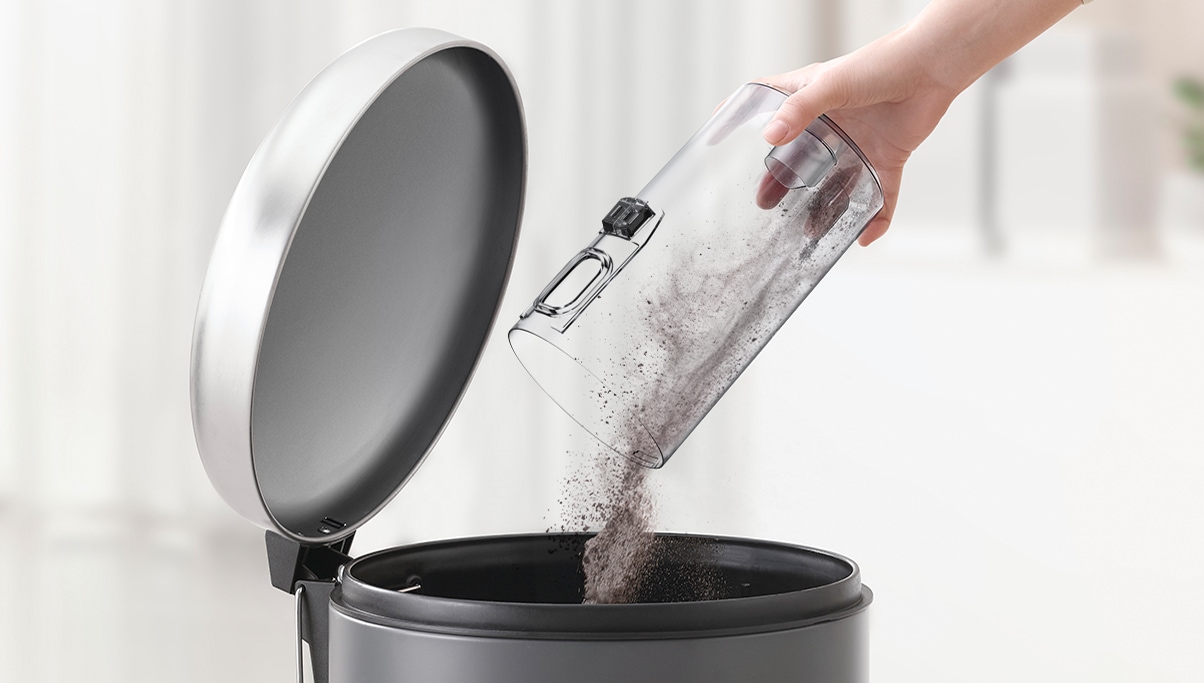 Effortless cleaning
Lightweight Design
Clean your home effortlessly with easy control and movement. A lightweight design ensures maximum usability, and reduces the strain on your wrist. The handheld body weighs just 1.48kg, which is 21% lighter* than conventional Samsung cleaners. So you can easily clean all around your house.
* Compared with the Samsung VS8000. Handheld body weight: Jet 60 1.48kg vs. VS8000 1.89kg.
Jet AR Experience
Step.1 | Scan the QR code & install SAMSUNG HA AR app from Google Play Store
Step.2 | Open the app and select Jet series to download
Step.3 | Scan the AR marker to experience Jet technology